Over the last two years, Sprintlaw has quickly cemented itself as a leader for legal tech innovation in Australia.
Recently, we launched Sprintlaw Counsel: a cost-effective legal service for enterprise businesses, giving you access to our expert lawyers and our cloud-based tech tools.
In a nutshell, Sprintlaw Counsel allows your business to outsource its routine legal work to our lawyers. As a Sprintlaw Counsel client, you'll get a dedicated account manager and a virtual legal team to take care of your day-to-day legal needs, freeing you up to focus on growing your business.
Offering a fresh, flexible approach to legal delivery, Sprintlaw Counsel has been profiled in The Australian. Since its recent launch, Sprintlaw Counsel is already helping businesses eliminate the headaches that traditionally accompany legal services.
What do you get as a Sprintlaw Counsel Member?
Your business can sign up to a Sprintlaw Counsel membership on either a monthly or annual basis for responsive legal help that fits into your schedule. Here's what you'll get:
Contract Help: We'll draft simple agreements you need and review and redline supplier, vendor or other contracts before you sign, at a discounted rate.
Corporate Advice: We can help manage your corporate legal requirements, including ASIC requirements and board minutes.
Deal Support: We can provide deal support (including due diligence services) at a fraction of the cost of traditional firms.
Expert Lawyers: Our expert lawyers were all trained at Australia's top firms and specialise in many different areas of business law. You'll receive dedicated monthly phone time with our lawyers, and they'll also be on hand to answer your quick questions online.
Cost-Effective Solutions for Your Legal Needs: We offer a range of flexible, fixed-fee retainer pricing options, tailored to your business' size and requirements. You'll also receive discounts on our fixed-fee legal packages, with the possibility of having a fixed-fee 'rate card' for services you'll need regularly.
Track Your Tasks Online: You can submit legal tasks and monitor their progress in real-time via our secure, dedicated cloud portal.
Legal Questions Answered At Any Time: Submit your quick legal questions online and get a prompt answer from our legal team.
Still unsure about whether Sprintlaw Counsel is right for you? Read on for more information about how the service will make legals easier for your business.
5 Reasons To Choose Sprintlaw Counsel
1. You'll get your own dedicated, on-demand legal team.
Signing up to Sprintlaw Counsel gives you access to our online portal and cloud-based tech tools.
Whenever you need a consultation or legal advice, you can simply log in and submit your task. You'll receive a dedicated account manager and full access to a team of expert lawyers who'll ensure you're fully taken care of.
2. We don't bill by the hour.
Price transparency is important to us. We don't bill by the hour. And we have no hidden costs.
We won't hit you with nasty surprises: you'll always know the cost of your legal bill from the very start.
Our pricings are tailored precisely to the specific size and requirements of your business, so you'll only pay for what you need.
3. You can monitor your tasks in real-time.
Thanks to our custom-built task monitoring technology, you'll know exactly how your work is progressing.
At any time, you can log in to our online portal and view the status of your task is up to on our dashboard.
With this real-time monitoring, you can view the lawyer assigned to your task, how your task is progressing and when it's estimated to be done.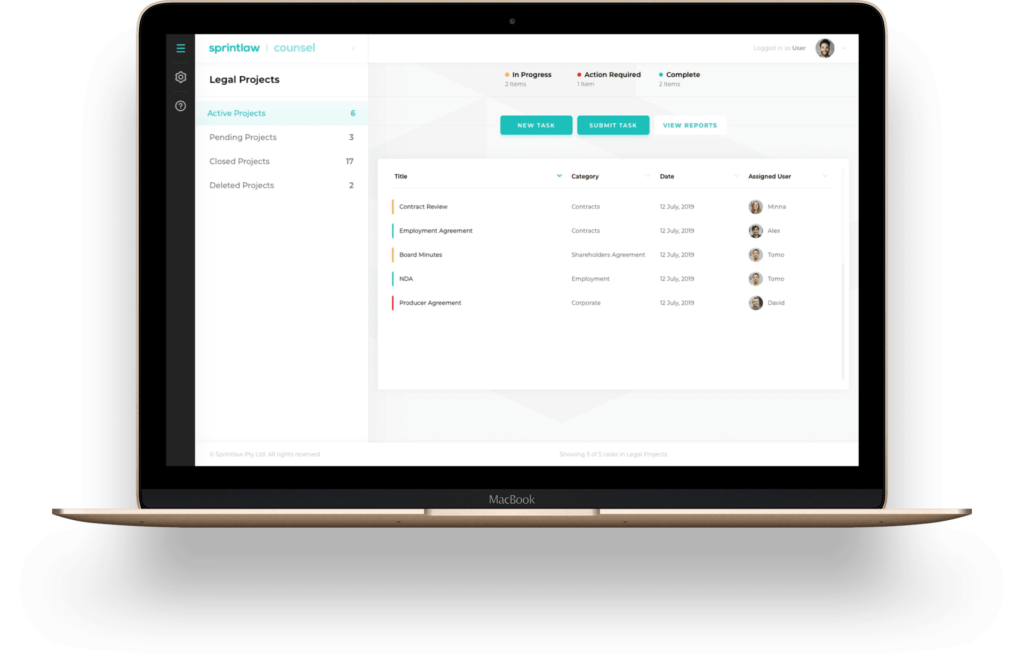 4. Our tech makes us quick and efficient.
We understand that getting work done quickly is important to you.
We've designed our systems to eliminate the arduous, paper-heavy admin seen in traditional law firms. Basically, our tech takes care of the routine admin stuff. This way, we can move quickly and provide you with the best quality legal services.
We've created custom-built workflow automations that are embedded into the way we operate our business.
Our automated bots do the routine, administrative tasks from client updates to time tracking and invoice management. The best part is that you no longer have to pay for all these overheads, either.
5. Your team can focus on more meaningful work.
With Sprintlaw Counsel, you can leave the routine "business as usual" legal work with us — from everyday contract reviews to drafting simple contracts.
Here's how we like to think about the kinds of legal work your business needs to get done:
Your valuable internal resources should focus on doing the high risk or high value work, while we take care of the low risk, low value everyday legal tasks. This will free up your internal resources to spend more time doing more meaningful work.
And, depending on the size and scale of your business, Sprintlaw Counsel's affordable, high-quality outsourcing service can replace your in-house legal team entirely. It's the perfect alternative to hiring and managing costly internal counsel.
Get In touch
Local and multinational enterprise clients are already jumping on board to use our integrated technology and lawyer solution.
If you're keen on using tech-powered lawyers to support your enterprise, let's have a chat!
Learn more about Sprintlaw Counsel here and get in touch at team@sprintlaw.com.au or 1800 730 617 if you're keen to get started.
Have a question?
Get your FREE quote now.
We'll get back to you within 1 business day.
---
0 Comments on "What Is Sprintlaw Counsel And How Can It Help Your Business?"