This chapter is all about contracts. Contracts are legally binding agreements. They are the lifeblood of a business, providing certainty and legal recourse if needed.
Having clear and legally sound contracts with whoever you deal with – your customers, suppliers/service providers and any partners or affiliates – gives you certainty and saves you a huge amount of commercial and legal risk.
Contracts are legally binding agreements. In the business world, contracts set out the specific terms of agreement between two or more parties.
A contract can be written, oral, or a bit of both – as long as there is an offer and an acceptance. However, having a well-drafted written contract is the safest way to make sure the details of your deal are clearly documented.
In this chapter, we've divided up the types of business contracts into three categories, as per the image below: customer contracts, supplier contracts and partner, affiliate and other contracts. We'll dive into each type in detail.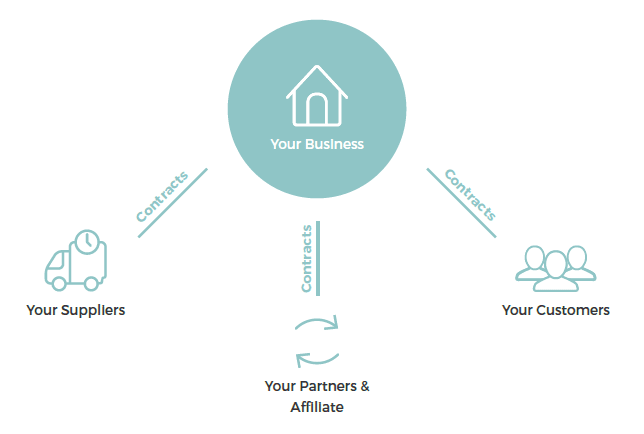 Customer contracts govern the relationship between your business and your customers or clients. These are often referred to as Business Terms & Conditions, Standard Terms & Conditions or Service Agreements. They set out the specific terms and conditions for your business, along with liability protections, rules around termination, and other standard terms.
When you talk to a lawyer about putting together your customer contract, they can help guide you through the legal risks relevant to your business. You can then decide how you want to address these situations. Some key things to consider are:
How do you accept payment from your customers?

What happens if a customer doesn't pay on time?

What happens if your customer isn't happy with your goods or services?
When it comes to your liability, having robust Terms & Conditions can really minimise the risk of customers blaming you if something goes wrong. However, it is important to be aware that even the best contracts can't protect you from everything. There are some regulations, such as the Australian Consumer Law (ACL), which prohibit unfair contract terms (more on this below). There is also always a risk that a third party, who has not signed your Terms & Conditions, could be impacted by your business activities. That's why it is often worth looking into business insurance.
Australian consumer laws – what are they?
The purpose of the ACL is to protect consumers who could be taken advantage of by bad business behaviour.
The ACL will often apply regardless of what the terms of a customer contract/standard terms and conditions might say.
If a court finds a term in a standard contract is unfair, that term will be void (i.e. treated as if it never existed).
Trying to hide onerous terms in the small print can be considered misleading and deceptive conduct under the ACL, so don't do it!
There are also certain consumer guarantees that apply to goods or services, even if they aren't specifically mentioned in any warranty or contract.
Supplier contracts are very similar to customer contracts – except that you're now the customer! These also come in various names, such as Business Terms & Conditions, Standard Terms & Conditions or Service Agreements. Supplier contracts lay out the relationship between your business and your suppliers.
Having clear contracts with your suppliers and service providers gives you the certainty that you will receive the quality goods and services that are essential for your business, to the standard and at the price that you expect.
Partners, affiliates and other contracts
Written, legally binding contracts are the best way to lock in any commercial deals your business enters into. There are all kinds of business agreements you can arrange, which means there are all kinds of contracts.
Some examples include:
You make a deal where your company refers customers to another company for a percentage of the profits. This requires a Referral Agreement.

You enter into a project with 2 other businesses to run an event together and share the revenue. This requires a Revenue Share Agreement, or Joint Venture Agreement.

You agree to fund a sports team in return for having your company logo on their jerseys and other marketing materials. This requires a Sponsorship Agreement.
In this chapter we've learned about contracts and how they give you certainty in commercial dealings and reduce commercial and legal risk for your business. Having a well-drafted contract is the basis for a successful business relationship and can save you ending up in court. This is not something to DIY – if you need help putting a contract together, get in touch and we'll happily guide you through the process.
Interested in working with us?
Tell us about your legal issue and we'll put together a fixed fee quote for you.